corporate sponsor program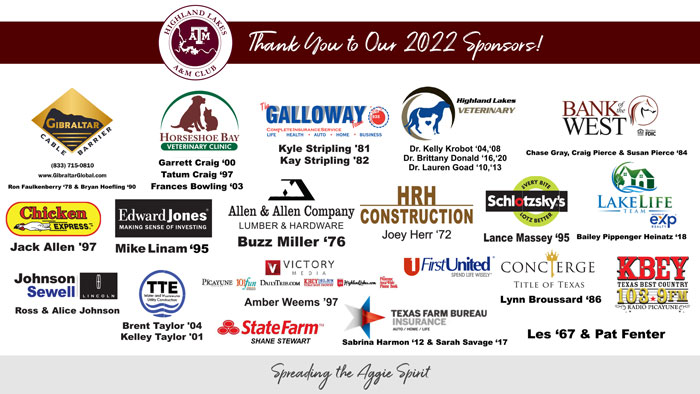 Part of our mission as an organization is to bring local Aggies together at annual events such as Aggie Muster, Coach's night and various other events.

Our Corporate Sponsorships are what allow us to put on quality events that are fun to attend. These sponsors ensure that we have the funds needed to cover the additional operating costs of the club beyond what membership dues and event entry fees cover.

Please consider becoming a Corporate Sponsor this year. You don't have to be a business owner to be a corporate sponsor. However, if you own a business, this is a great way to support the Club and promote your business to local Aggies.

corporate sponsorships opportunities

Here's what's included in our Corporate Sponsorship package:
Logo on Website Home page
Recognition in the Newsletter
Your Logo as Table Centerpiece at Club Events
Logo or your name on the Corp Sponsor banner at Club Events
In years we have the golf tournament, also includes a Hole Sign with your logo and inclusion on Tournament Sponsor Banner.

To pay by mail, please download the PDF here and mail to the PO Box listed on the form. Please make checks payable to the Highland Lakes A&M Foundation.

If you have additional questions about the program, please contact Bailey Heinatz '18 at (512) 694-0701.